ᴄᴜʀʀᴇɴᴛʟʏ ʀᴇsᴇᴀʀᴄʜɪɴɢ:
ɪᴛᴇᴍs ᴛʜᴀᴛ ᴀʀᴇ ᴄᴜʀʀᴇɴᴛʟʏ ʙᴇɪɴɢ ʀᴇsᴇᴀʀᴄʜᴇᴅ ᴍᴀʏ ʙᴇ ᴜᴘᴅᴀᴛᴇᴅ ᴀs ᴛɪᴍᴇ ɢᴏᴇs ᴏɴ. ᴛʜɪs ɪs ᴛʜᴇ ғᴏᴜʀᴛʜ ᴘᴏsᴛ ɪɴ ᴛʜɪs
sᴇʀɪᴇs
.
ɴᴏᴛᴇ: ᴛʜɪs ᴛᴇsᴛɪᴍᴏɴʏ ʜᴀs ɴᴏᴛ ʙᴇᴇɴ ᴄʜᴇᴄᴋᴇᴅ ᴀɢᴀɪɴsᴛ ᴛʜᴇ ᴍɪᴄʀᴏғɪʟᴍ.
The Testimony of Bruno Richard Hauptmann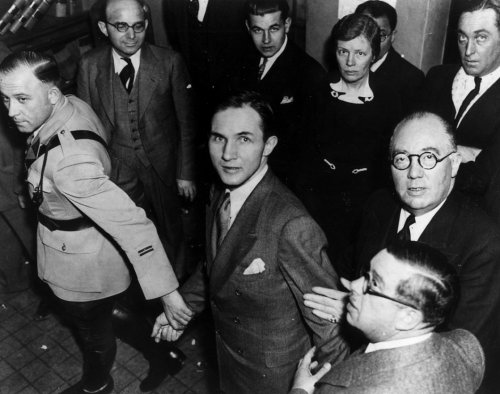 Hauptmann (who went by his middle name, Richard), was born on November 26, 1899, in Saxony, Germany. He went to public school for 8 years, and following his graduation, attended a trade school for 2-3 years. He studied carpentry and machinery and began working at the age of 14 in his hometown, Kamentz.
He went to fight in the first World War when he was 17 years old, and served for 1
¾
yrs, He testified that he was slightly wounded, or perhaps gassed. He came out of the army around Christmastime in 1918.
This was a bad time to be in Germany, of course, and Hauptmann was unable to obtain work. He was convicted of "an offense" (in this part of the testimony, unnamed; we know this to have been a burglary including the use of a ladder) in springtime of 1919, and was later paroled.
Hauptmann first tried to enter the US in the summer of 1923. He boarded a steamer, but was discovered on the ship and returned to Germany. He tried again in November of the same year and was successful.
He found work as a dishwasher in New York City and worked for about a month, then became a mechanic, then a dyer, and then as a machinist; finally, he gained work as a carpenter, earning $8 a day.
Hauptmann met Anna Schoeffler in 1924, they moved several times, and he began earning more. Bruno and Anna married on October 10, 1925.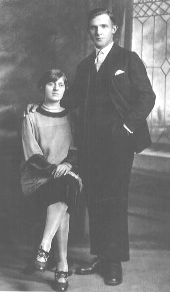 Hauptmann testified that he has never been to Hopewell in his life, nor had he ever been to Highfields, and so on, and so on.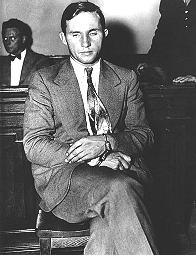 On March 1st, 1930:
He woke up around 6am and took his wife to the bakery between half past six and a quarter to seven. He dropped his wife off, put the car in the garage, and went to the White Plains subway station, and took the subway to the Majestic Hotel, where he was to report for work.
Hauptmann went to the carpentry shop and the foreman told him to go see the superintendent. The superintendent told Hauptmann that he could not start working, since the job was filled up, though Hauptmann claims he had a note from an agency granting him the job.
Hauptmann left his tools at the Majestic and went to the employment agency, trying to get the ten dollars back that he paid to get the position. He couldn't get it back and was told to come back tomorrow when there would be other positions open.
He then spent the day going around to various employment agencies and to Radio City trying to get a construction job, and then went home around 5pm. He picked up Anna around 7pm, walked "the owner's" police dog (I suppose the owner of their apartment?) and ate dinner at a restaurant. They left the restaurant after 9pm, Hauptmann drove them home and went straight to bed.
On March 2nd, Hauptmann got up at 6am again and took his wife to her job at the bakery. He then put the car in the garage and went to the Sixth Ave. subway stop, where he says he purchased a paper and read about the Lindbergh case for the first time.
Hauptmann continues to deny writing the ransom letters, meeting in the cemetery, and so on. He continued searching for a job from the 1st to the 15th of March while working at a lumber yard near his home. He gets a new job at the Majestic Apartment on the 15th or 16th of March, though he leaves this job on the 1st, claiming he wasn't paid what he was promised. (This is, of course, when the kidnapper received his ransom.)
Finally, the ladder recovered at Lindbergh's home is brought out. When asked if he built the ladder, Hauptmann first replies, "I am a carpenter." Laughter filled the courtroom. Hauptmann was not taught English at school, and his testimony occasionally reflects his difficulty with the language.
The question is asked again, and Hauptmann replies, "Certainly not."
He is asked to come down from the witness stand and look at the ladder, and upon doing so, says "Looks like a music instrument."
"Does it look like a well-made ladder?"
"To me it looks like a ladder at all, I don't know how a man can step up." Your guess is as good as mine as to what Hauptmann means there; he apparently did not feel it was well-made.
Hauptmann denies transporting the ladder in his car.


~~~~~~~~~

I have been busy the past few weekends and have been unable to make it to the library to further check the microfilm. I have located copies of the trial transcripts and FBI files online and will be ordering those, which should hopefully make this research go faster.

~~~~~~~~~~~~~~~~~~~~~~~


Next up: The Notes